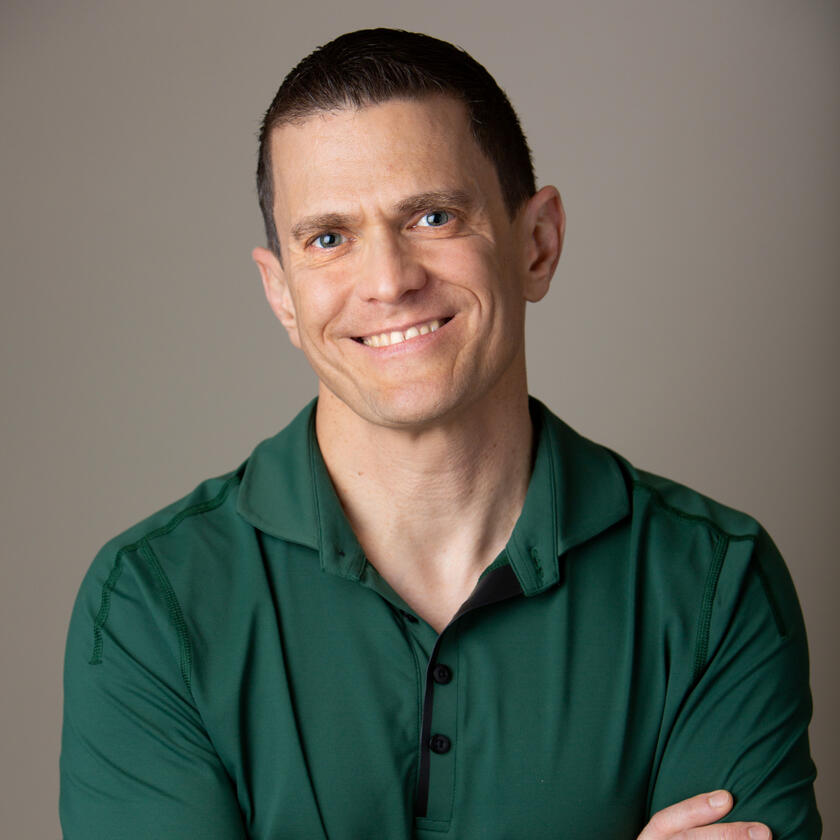 Gary Westbrock, PA
Dermatology
(805) 541-4018
715 Tank Farm Rd, Suite A
San Luis Obispo, CA 93401
Phone Hours
| Day | AM | PM |
| --- | --- | --- |
| Mon | - | 1:30 - 4:30 |
| Tue | 9 - 12 | 1 - 5 |
| Wed | 9 - 12 | - |
| Thur | 9 - 12 | 1 - 5 |
| Fri | - | 1:30 - 4:30 |
---
Personalized care for your skin.
Gary has been practicing dermatology in San Luis Obispo since 2003 and is dedicated to providing quality, personalized care for patients.
He sees patients in the office of Dermatologist and Mohs Surgeon Karen Allen, MD.

He enjoys treating patients of all ages who have a wide variety of skin issues such as acne, eczema, and psoriasis, to name just a few. He has extensive experience performing surgical procedures ranging from the removal of harmless moles and cysts to the excision of skin cancers.
---
Common Questions
New Patients - currently we are accepting new patients who have been previously seen by Gary at his former practice as well as referrals from other providers.

Insurance - we are in-network with Blue Cross, Blue Shield, and Medicare. For patients with out-of-network insurance, we attempt to facilitate reimbursement by your insurance company.

Directions - enter through the Tank Farm Road driveway - we are the 2nd building on the right. We have a new entrance as of August 2018: see Google Maps.

Refills - If you need refills on a prescription written within the last year, please call your pharmacy and request a refill through them. (More refill info below)
---
COVID-19 Update
6/11/2020

We are currently encouraging patients to postpone routine skin checks for the foreseeable future, unless there is a specific concern that needs evaluated. We are trying to manage what we can via telehealth and use in-person office visits for problems that cannot otherwise be resolved. That being said, we are happy to accommodate those who feel more comfortable having an in-person skin exam, even if there are no immediate concerns. We are just trying to be as cautious as possible.

We understand that it might be difficult for you to decide what the best course of action is for yourself, so please feel free to call us.

The best hours to reach Nancy by phone are listed at the top of the page.
Our plan for the foreseeable future
1. If you have a previously scheduled routine exam, then Nancy will call you 1-2 weeks beforehand to discuss. She will be guided by my notes on who can safely defer their skin exam for the time being, and if appropriate then plan on a visit one year later.

2. If we already cancelled your appointment sometime in March-April-May 2020 due to COVID-19, then we will plan on seeing you next year, in the spring of 2021. If you feel that is too long to wait, then please contact us and we will discuss.

3. If you have a worrisome spot that you would like to have checked, then Nancy will direct you on how to submit a photo for evaluation. If it warrants an in-person evaluation or biopsy, then we will arrange an appointment for you. If not, then we will bill your insurance for photo evaluation, as per published guidelines.

4. If you have a rash or other complicated problem, then we may still have you submit photos and if possible, we will try to manage it via a live video visit with me. Obviously, there will be cases where we just schedule an office visit straight away, if that choice seems inevitable.

5. If you need a refill on a medication, then we will try to manage it via #2 or #3 above, depending on the circumstances.

We will continue to monitor the viral situation and make adjustments when and where needed.
---
Changes to our office
We are currently seeing patients on Mondays and Fridays, but things have changed as we try to minimize our patient's potential exposure to the coronavirus:

We are only filling every other appointment slot, in an effort to reduce the number of people in the office at one time.

We are no longer using our waiting room nor our front desk. When you arrive at our office please text or call Nancy at (805)541-4018 and wait in your car or outside the building(there is a bench outside the door). Once an exam room is clean and ready for you and there are no other patients in the hallway, Nancy will text/call you to when we are ready for you.

She will then unlock the front door and take your temperature from your forehead, to ensure that you do not have a fever before you enter the office. She will then take you directly to an exam room.

All patients will also be required to wear a mask while being seen in our office, and all of our staff will do the same. If you do not have a mask, then one will be provided for you. These do not have to be fancy "N95" masks – any mask that covers the nose and mouth will suffice.
---
Telemedicine
We offer two types of telemedicine visits:
A. Review of a photo of a solitary spot – for example, a worrisome mole
B. Live video visits with Gary for more involved/complicated problems

Steps to enable a telemedicine visit:
1. Contact Nancy (see below) for a link to our telemedicine service and to arrange a time for a video visit, as needed. She will also confirm your current contact information and insurance coverage.
2. Download the PocketPatient app for your phone or tablet of choice. Once you have opened the app, go to the More: Options: Camera Settings – select "high resolution" for both the front and back cameras.
3. Initiate a visit by requesting a "Virtual Check-In" using the app.
4. Tips for taking photos:
a. bright light is essential, especially sunlight
b. do not place the lens closer to the skin than about 4 inches(about the width of a toilet paper roll)
c. zoom in slightly to help even out the lighting
d. take photos from several angles.
5. If review of a photo is all that is requested, then the visit will be conducted via messaging within the app.
6. If a video visit is required, then at the time of your scheduled appointment you will receive a text message or notification through the app, which will provide a link to the video visit.

Patients wishing to have Gary review photos are encouraged to send them through our Telehealth system. Insurance will be billed for all visits, but if you are prefer to send in photos via email instead of the PocketPatient app, then you will be charged a $15 convenience fee that will not be billed to insurance, in addition to the charge for the actual visit.

Problems appropriate for telemedicine
• acne or rosacea (especially for refills if you are fairly stable with your current regimen)
• psoriasis, eczema, poison oak
• specific spots of concern, e.g. is it a skin cancer?
• new rashes, with the understanding that we might need an in-person appointment if photos/video prove to be insufficient
---
About the current viral pandemic
As far as the SARS-CoV-2 virus (which causes the COVID-19 respiratory disease) that is disrupting our lives, I continue to strongly encourage you to wear a mask of some sort whenever you have to venture outside your home (as I have suggested from the beginning). Even though common masks are seemingly not as effective as the legendary N95, they are still surprisingly effective at protecting you and exceedingly helpful at reducing the risk of the virus spreading from an infected person, if their respiratory droplets are going into their own mask instead of the air/their hands. This is important because a person who contracts the virus can unknowingly spread virus to others for an average of 5 days before they realize that they are sick, and even up to 9 days in some cases.

Finally, be kind to yourself as well as others. These are difficult times and everyone is doing their best. Uncertainty can be difficult to tolerate, but I take solace from the idea that things always work out in the end. And if it has not worked its way out, then we have not yet gotten to the end.

It reminds me of the parable of the farmer and his son, the following version coming from The Peaceful Warrior by Dan Millman:
An old man and his son worked a small farm, with only one horse to pull the plow. One day, the horse ran away.
"How terrible," sympathized the neighbors. "What bad luck."
"Who knows whether it is bad luck or good luck," the farmer replied.
A week later, the horse returned from the mountains, leading five wild mares into the barn.
"What wonderful luck!" said the neighbors.
"Good luck? Bad luck? Who knows?" answered the old man.
The next day, the son, trying to tame one of the horses, fell and broke his leg.
"How terrible. What bad luck!"
"Bad luck? Good luck?"
The army came to all the farms to take the young men for war, but the farmer's son was of no use to them, so he was spared.
"Good? Bad?"
---
Information resources(will open in a new tab):
SLO County Emergency Information (ReadySLO.org)
Patient information from "UpToDate"
Why Telling People They Don't Need Masks Backfired
Why Wearing a Face Mask Is Encouraged in Asia, but Shunned in the U.S.
---
About Gary - Gary graduated from the Physician Assistant (PA) program at Samuel Merritt College in Oakland, California in 2001 with a Master's Degree in PA Studies (MPA). This rigorous program lasted over 2 years, which included over a year of classroom instruction followed by a year of hands-on clinical training in the core medical fields of primary care, internal medicine, pediatrics, surgery, emergency medicine, obstetrics and gynecology, and geriatrics.

After graduating, Gary pursued his interest in dermatology by training and working in San Francisco with Dr. Marcus Conant (1996 Practitioner of the Year for the American Academy of Dermatology). Gary is constantly expanding his knowledge of dermatology by participating in lectures, seminars, and attending educational conferences. He also acts as a clinical mentor for PA students.

Prior to his PA education, he received an undergraduate degree in Biological Sciences from California Polytechnic State University, San Luis Obispo, and worked for 4 years in pharmaceutical research, developing drugs for urinary tract diseases. He was also trained as an emergency medical technician.

To remain nationally certified by the National Commission on Certification of PAs (NCCPA), Gary must complete 100 hours of Continuing Medical Education (CME) every 2 years, and pass a national recertification examination every 6 years.

He was nominated for the Most Outstanding Student Award at Samuel Merritt College, and received Special Recognition in Surgery from the NCCPA in 2001.

Gary has also served as an Adjunct Assistant Professor for the PA Program at Samuel Merritt College in Oakland. He is active in the Society for Dermatology PAs, and has served on the board of directors. He is also a member of the American Academy of PAs, California Academy of PAs, and Central Coast Dermatological Society.
What is a PA? - PAs are medical providers formally trained in primary care medicine, graduating from one of over 78 accredited medical-model training programs in the United States. While approximately 1/3 of the estimated 75,000 PAs nationwide remain in primary care, the rest can be found in every medical and surgical specialty.

PAs have been practicing with dermatologists for over 30 years, providing a wide variety of services. These include diagnosis, prescribing medications, ordering and interpreting lab tests, wound suturing, and medical or surgical treatment of a wide variety of clinical diseases.

As with ALL PAs, dermatology PAs are legally and ethically bound to practice only in collaboration with their employing physician(s).
Our Office - Because we are a small office, we may not always be able to answer your inquiry immediately. We appreciate your patience, as that usually means that we are currently helping another patient, but we will get back you you as soon as we can.
New Patients - currently we are accepting new patients who have been previously seen by Gary at his former practice as well as referrals from other providers.

This may change in the future, but currently we have limited resources and want to make sure that we give our current patients the attention that they deserve.
Refills - If you need refills on a medication prescribed within the last year, please call your pharmacy and request a refill through them. If you have zero refills left then the pharmacy will request further refills from us. If the prescription is older than 1 year then please call our office, because you will need to make an appointment to be seen. Please allow 2 business days for us to process your refill request. Some medications such as antibiotics and topical steroids must be monitored closely, so if we have not seen you recently, you may need to make an appointment with us to get additional refills.
Directions - enter through the Tank Farm Road driveway - we are the 2nd building on the right. We have a new entrance as of August 2018: see below or Google Maps. Our door is tucked under the overhang between the 2 buildings - closer to the parking lot than before. If you are looking at the locater map (aka you are here) near the Tank Farm driveway, we are immediately to your left.
If you follow your car's GPS then expect to get lost. Seriously. We hear this all the time from our patients.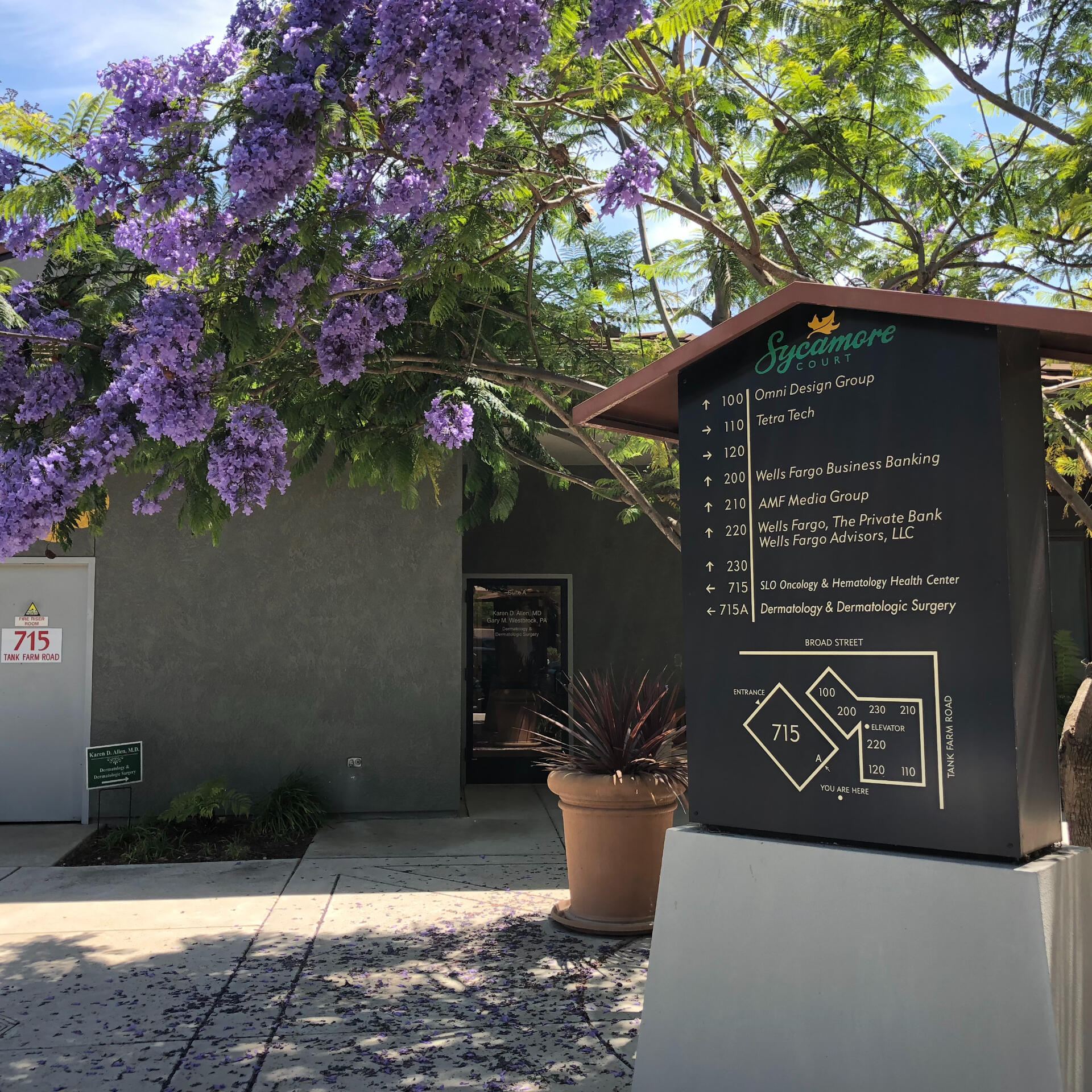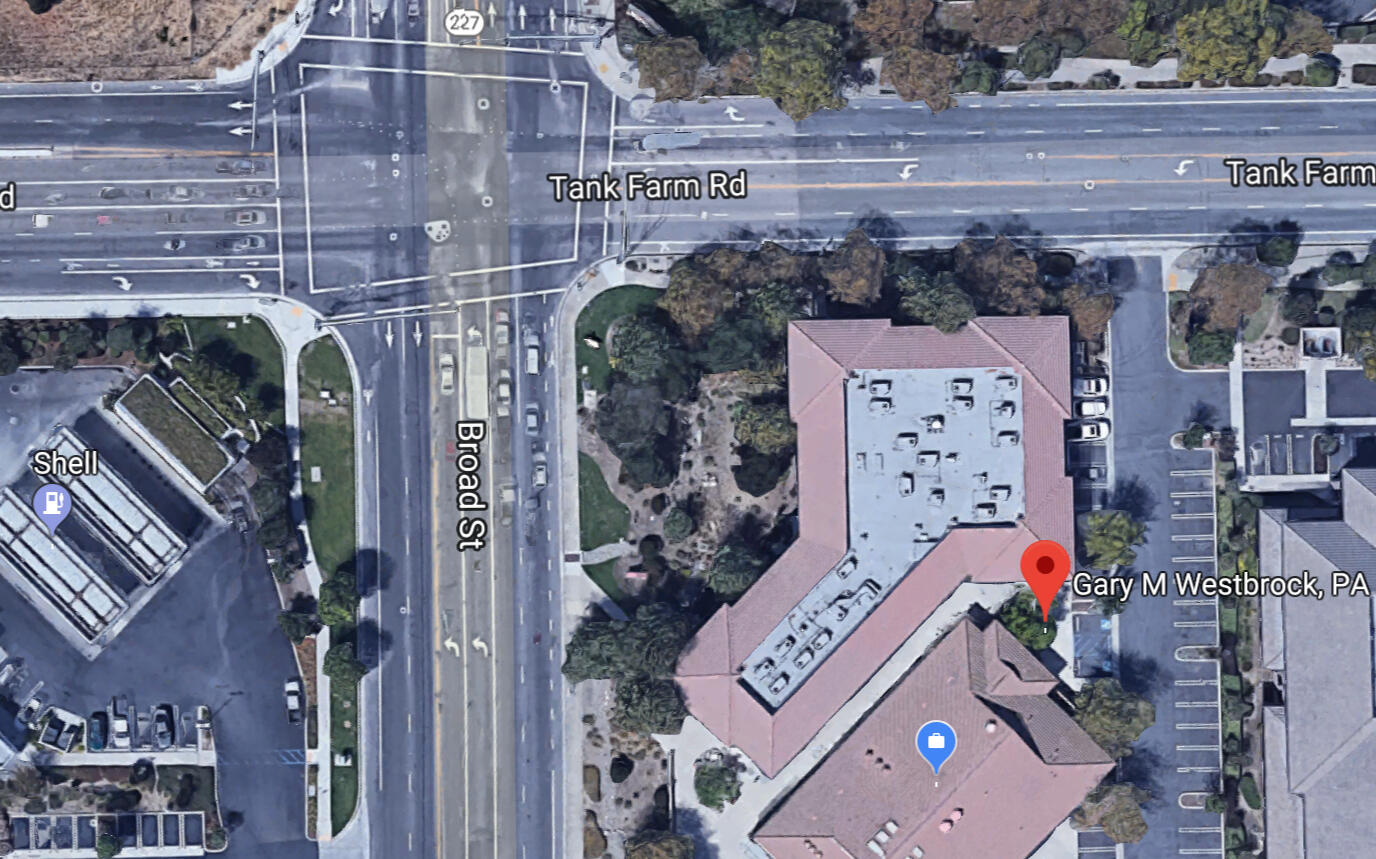 Contact us or Request an appointment
We will attempt to contact you within 2 business days.
If this is an urgent request, please call us instead.
You can also email us using the link at the top of he page